Client Profile
Sibanye Stillwater is the third largest producer of palladium and platinum in the world and one of the top ten in gold production. With their primary operations in South Africa, the company recently merged with the long standing Stillwater Mine and Smelter facility in Columbus, MT. With an ever evolving commitment to environmental stewardship, solar energy production at their smelter facility was an easy decision for the management team at Sibanye Stillwater, and just a glimpse into future plans within the company to integrate renewable energy into their many worldwide facilities.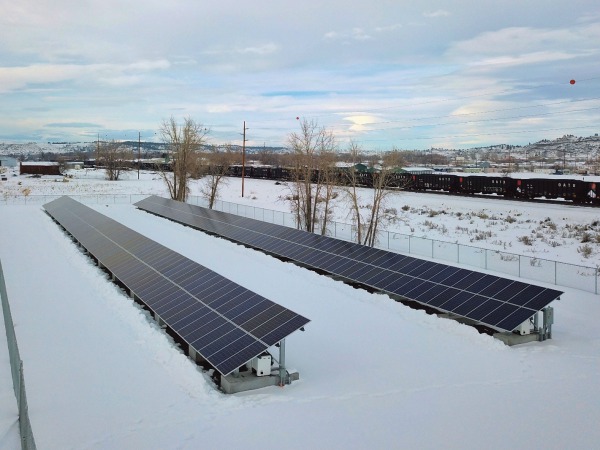 PRODUCTION
143,380 kWh/year
PANELS
Canadian Solar 315 Watt Panel x 320
INVERTER
SMA 50 kW Core1 x 2
WARRANTY
25 Year Power Warranty, 10 Year Manufacturer's Warranty
Design/Build
One of the client's primary requests for the design of the system was that the solar array be easily moveable to accommodate future expansion of the facilities. The design solution was a ballasted ground mount system with anchor points integrated into the concrete blocks, which allows for the solar panels and racking system to be disassembled and the concrete blocks to be easily moved via the anchor points. The secondary request was that the system be as robust and low maintenance as possible. By opting for 20-year inverter warranty extensions, web based system monitoring, and OnSite Energy's 5-Year commercial operations and maintenance warranty, which includes an annual in-person inspection and electrical performance verification, Sibanye Stillwater can rest easy that their investment will operate at it's full potential with minimal oversight and maintenance requirements.
Breaking additional ground, this project is the first non-export behind the meter solar electric system in the state of Montana. With a large base load and a single meter for the entire smelter complex, the 100 kW DC rated solar array will never push energy on to the grid, thereby eliminating the need need for a net metering agreement or the 50 kW system cap as imposed by NorthWestern Energy.