Projects
Client Profile
Spark R&D
is a Bozeman-based splitboard binding company that manufactures their products in-house. As I'm sure you can imagine, this takes a lot of energy! The co-owners of Spark R&D, Becca and Will Ritter, are not only sustainably-minded business owners, but also long time friends of OnSite Energy, which made it a fun project for everyone involved.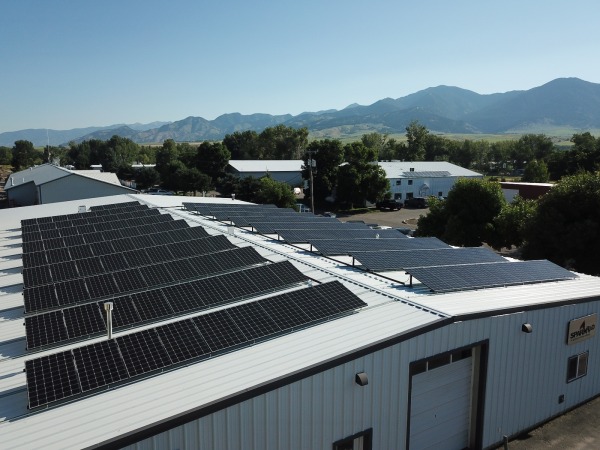 PRODUCTION
Estimated 61,255 kWh/year
PANELS
Trina 300 Monocrystalline 60 Cell Modules x 166
INVERTER
SMA America Core 1 50 kW
MOUNT
SnapNrack Series 100 with Custom Built Tilt Legs
WARRANTY
10 Year Manufacturer's Warranty, 25 Year Power Output Warranty
The roof of Spark R&D's 12,000 square foot facility was a great candidate for solar with few obstacles, little-to-no shade, and plenty of space to host a 49.8 kW system consisting of 166 Trina 300-watt solar modules. As built, the array takes up about 2/3 of the roof space and will offset approximately 25% of the facility's demand. Should Montana's net metering statute change in the future to allow for systems larger than 50kW, the Ritters would love to fill the remaining third of the roof space with more solar.
The Design
The Spark R&D roof slopes down to the east and the west at a 5 degree tilt from the center. To maximize the solar potential, we oriented the modules to the south and mounted them on custom-built tilt legs at a 15 degree tilt. The array is estimated to produce approximately 61,255 kWh/year.