Projects
Client Profile
Back in 2015, we installed a 6.72 kW system on the south and western roof aspects of the Peacock's home. We always design our systems to be modular so that they can be expanded at any point in the future, which is exactly what the Peacocks decided to do four years later. The final expansion design included eight more modules for combined total capacity of 9.24 kW, as well as two Tesla Powerwalls. Adding battery back up will enable the house to run on solar when the sun goes down at night, as well as during the frequent short-term blackouts that this area experiences. This system is the first "whole home" battery back up solution that OnSite Energy has installed! Read more about whole home vs. partial home back up below.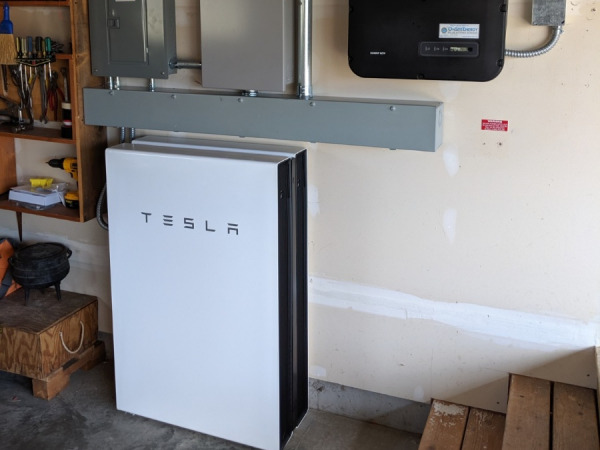 POWER
2.52 kW Expansion, 9.24 kW Total
PANELS
REC 315 Watt TwinPeak 2 Mono
INVERTER
SMA Sunny Boy 7.7
WARRANTY
20 Year Manufacturer's Warranty, 25 Year Power Output Warranty
Whole Home vs. Partial Home Backup
Tesla Powerwall is one of the few battery storage systems that has the potential to backup your entire home in the event of a grid outage. While you will still want to be energy conscious when the grid goes down to ensure the battery lasts as long as you want it to, many homes can operate normally when the grid goes down with two Powerwalls, as is the case for this project. The Powerwall system includes a mobile app to monitor the state of charge in the battery pack, and see realtime energy flow between your solar system, battery, household consumption and your utility meter. This makes it convenient to know where your energy is coming from and how to adjust your consumption if you want to maximize the duration of the backup period for an extended outage.
Whole home backup is not critical to everyone though. Some people just want to keep the fridge/ freezer going, run some lights, a TV for entertainment, internet for emergency communication and charge their phones to make it through an outage. In this case a single Powerwall often suffices and can either be paired with a special "critical loads panel" which includes only the circuits you want to backup during an outage or a smart device which automatically turns off or limits the consumption from high draw appliances in your home like a clothes dryer, electric range, hot tub, etc.
The Solar Community
It's no secret that the solar community tends to draw some pretty awesome people, and we are lucky to meet such talented and interesting folks along the way through our work! Andrea Peacock, author and journalist, runs the
Elk River Arts & Lectures
non-profit that is dedicated to promoting and cultivating Livingston's literary heritage. Doug Peacock,
author
and conservation activist, founded the
Save the Yellowstone Grizzly
non-profit that has been fighting for the safety and welfare of grizzly bears and their habitat.
Are there tax credits for batteries? Whole Home vs. Partial Home Backup
Yes- as of 2018, retrofitting an existing residential solar PV system with battery back up is subject to the Federal Investment Tax Credit (ITC). The current 26% ITC is scheduled to be reduced to 22% in 2021, and eliminated for residential projects in 2022.