Projects
Client Profile
Bridger Bowl Ski Area was established in the 1950s as a 501(c)(4) non-profit that operates on a combination of private land and a special use permit agreement with the Custer Gallatin National Forest. The local community of stakeholder's love of the ski area and stewardship of the private and public land has long instilled a deep commitment to sustainability and environmental best practices in Bridger Bowl's mission. Bridger Bowl had contacted OnSite Energy about the potential for incorporating solar energy on the mountain back in 2007, but at that point the cost of solar was still prohibitively high. However, over the past decade the cost to install solar has dropped more that 70%, and by the time that Bridger Bowl reconnected with OSE on the topic in 2019 it was finally in realm of possibilities.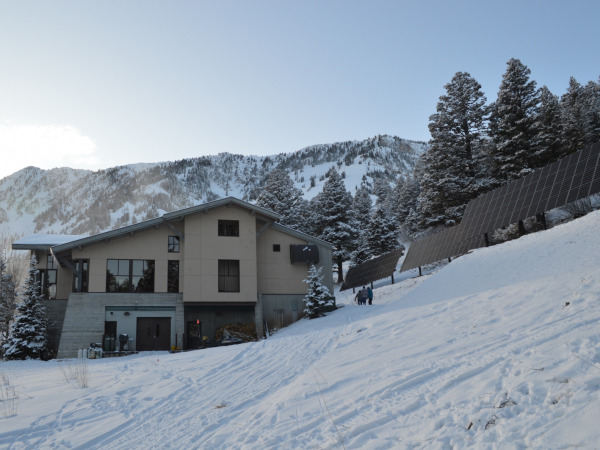 PANELS
REC 320 Watt Twin Peak 2 Mono Series Modules (x 160)
INVERTER
Fronius Symo 12 kW Three Phase Inverter (x4)
MOUNT
MT Solar 40 Top (x4)
WARRANTY
25 Year Power Output Warranty, 20 Year Manufacturer's Warranty
The Design

It was important to find a location for the project that had ample sun exposure, wouldn't get in the way of daily operations, but also be visible to the Bridger Bowl community at large. We ultimately chose the hillside behind the Deer Park Chalet that was already off-limits to skiers and riders, gets plenty of sunlight, and is the main hub of mid-mountain activity. To accommodate the rigorous structural requirements of the steep grade at the site and the 120 PSF ground snow load, we specified MT Solar Adjustable Pole-Mount Racking system on steel posts in 3' Sonotube pier foundations. The 50kW array consists of 160 320-watt modules divided into 4 40-top pole mounts at a 40° tilt angle. The 40° tilt is optimal for shedding snow in the winter and can be adjusted as needed.
Financial Elements
As a non-profit Bridger Bowl was eligible to apply and receive funding through the NorthWestern Energy Efficiency Plus (E+) Renewable Energy Program. The program is established with Universal System Benefits Program funds collected from all NorthWestern Energy customers in Montana.
Sustainability
According to Bonnie Hickey, Bridger Bowl's Sustainability Director, the array is expected to produce an equivalent amount of power as it takes to make the snow in the beginner area, power the Snowflake Chairlift, two conveyor lifts and the Snowflake warming hut, as well as the adjacent Ski Patrol and Eagle Mount building. Read more about Bridger Bowl's sustainability program here, and check out a recent front-page article on the project in the Bozeman Daily Chronicle here.